Displays information about proxy entities and toggles their display in the current drawing.
Note: Proxy graphics are CAD entities that are unknown to BricsCAD and so are shown in the drawing as geometry that can be edited only in the most basic manner.
Accessing the Command
command bar: proxyinfo
: proxyinfo
Displays a dialog box: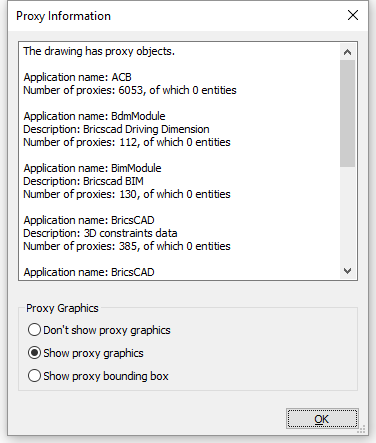 Command Options
Option

Description

Proxy Graphics

Toggles the display of proxy graphics in the drawing:

Don't show proxy graphics - turns off the display of proxy graphics
Show proxy graphics - shows proxy graphics
Show proxy bounding box - displays a rectangle or cube, instead of the proxy
Related Commands
Audit - repairs drawings that are open.
Recover - recovers damaged drawings.