Imports page setup definitions from other drawings through a dialog box.
Note: Page setups define how a drawing is printed, and are used by the Print and Publish commands.
Accessing the Command
command bar: psetupin
: psetupin
Displays a file dialog: select the drawing from which you want to import page setups, and then click Open.
Displays a dialog: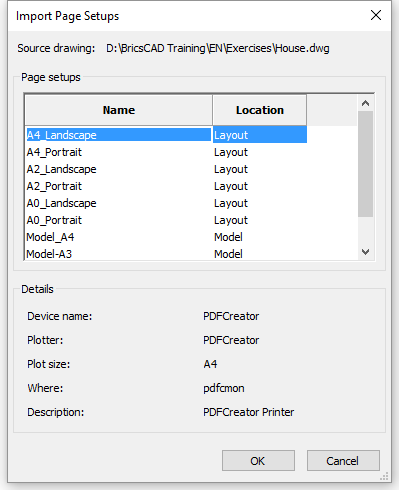 Select one or more page setups in the list. Hold down the Ctrl key to select multiple page setups, then click OK to import the selection into the current drawing.
Command Options
| | |
| --- | --- |
| Option | Description |
| Name | Specifies the names of page setups in the drawing; click the Name header to short the names alphabetically. When the drawing contains no page setups, then the dialog box is blank. |
| Location | Specifies the layout and model locations of page setups; click the Location header to short them alphabetically |
| OK | Imports the page setups into the drawing |
| Cancel | Cancels the command and does not import anything |
Related Commands
-PsetupIn - imports page setup definitions from another drawing through the command bar.
PageSetup - creates and edits page setups for plotting drawings in the Drawing Explorer.
Layout - creates, copies, renames, and deletes layouts.