Opens or activates the Start tab.
Accessing the Command

Keyboard: gotostart
Keybaord shortcut: Ctrl+Home
: gotostart
Displays the Start tab.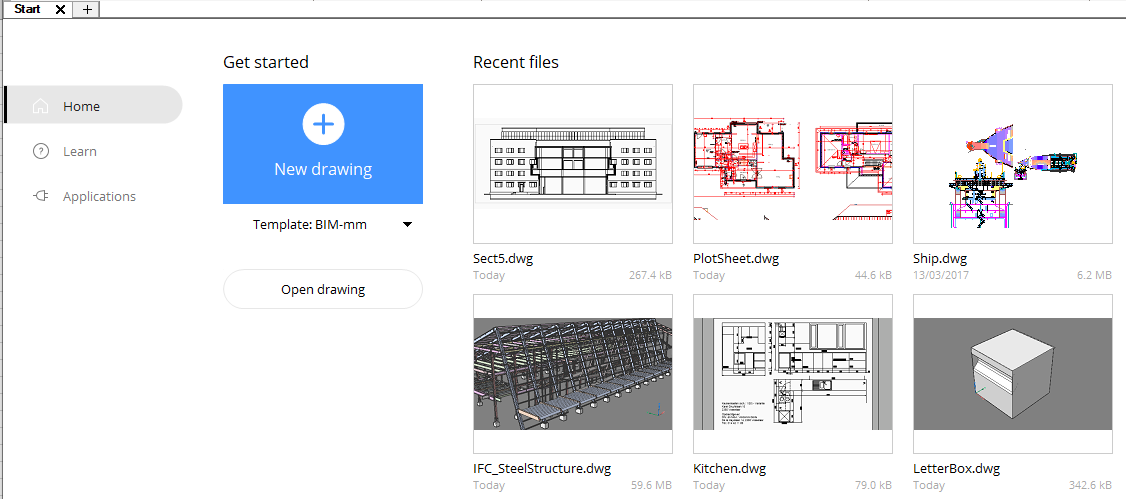 Command Options
Title

Description

Home

Allows to:

Open a recent drawing
Click the thumbnail image of a recent file.
The number of available recent files is controlled by the value of the RECENTFILES system variable.
Create a new drawing

Optionally click the Template drawing.
Click the New Drawing tile.

Open a drawing
Displays the Open Drawing dialog box.

Learn*

Allows to directly access BricsCAD tutorials and sample drawings.

Applications*

Displays links to the Third Party Applications catalogue on the Bricsys website.
* Internet access is required
Settings
| | | |
| --- | --- | --- |
| Name | Title | Description |
| RECENTFILES | Recent files list max count | Specifies the maximum number of files shown in the "Recent Files" section in the File menu and the Home section of the Start tab. Values between 0 and 60 are accepted. |
Related Commands
New - prompting you to select a DWT template file, and then starts a new drawing based on it.
Open - opens drawing (DWG), template (DWT), and interchange (DXF) files in new document tabs.
QNew - starts a new drawing (short for "quick new") based on the default template file.