Moves 3D solids perpendicular to a selected face by dragging that face. Optionally preserves connections to other solids.
Accessing the Command

Commandline: DRAG

Quad: Select face | Model | Drag

Ribbon: Home | Modify | Drag

Toolbar: BIM toolbar | BIM

: Drag
Prompts you in the command bar:
Select several entities/subentities: (select a face of a solid)
Entities in set: 1
Select several entities/subentities: (select more faces, then right click or press Enter to stop selecting.)
The selected face(s) move(s) dynamically. The manipulator displays.
When multiple faces are selected, the solids are moved perpendicular to the face selected last.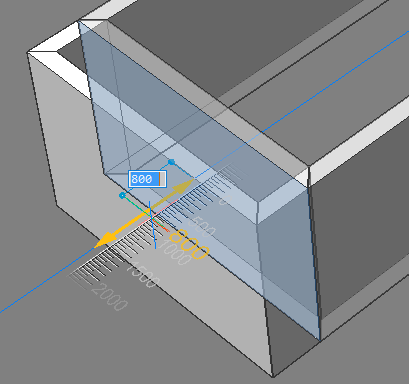 Specify distance to drag solid or [Disable connectivity mode]:
Optionally disable/enable connectivity mode, then do one of the following:
(option) The current reference face highlights. Hit the TAB key to select a different reference face. All faces which are parallel to the selected one are recognized, the nearest first. Press and hold the SHIFT key when hitting the TAB key to cycle reference faces in reverse order.
To select a reference face on a different solid: move the cursor over that face, then hit the TAB key. The selected face highlights.

Click a point in the model.

Type a value in the dynamic distance field.

Move the cursor to adjust the value in the dynamic distance field, then click.
Optionally zoom in/out to set the snap increment size of the ruler.
Command Options
Option

Description

Connectivity mode

The options are:

: Enable connectivity
: Disable connectivity

Do one of the following:

Hit the Ctrl-key to toggle the connectivity mode.
Type d to disable connectivity
Type e to enable connectivity
Procedures
Setting the distance between parallel solids
Using the MEP Modeling tools to alter profiles
Related Commands
DmPushPull - adds or removes volume from a solid by moving a face.
DmMove - moves the selected solids, or faces or edges of a solid using a vector.
BimFlowConnect - Creates a connection between flow segments, such as pipes or HVAC ducts.