Creates a graded surface on existing toposurfaces. 
Accessing the Command
Commandline: GRADING
Quad: Model | Create Grading
Ribbon: Civil | Create | Grading
: Grading
Prompts you:
Select input entity: (Select the entity to define a graded surface.) 

Select target surface or [slope/Offset]: (Select the target surface to create a graded surface or choose an option.)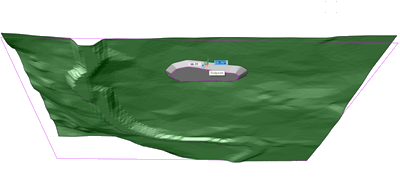 Move mouse to change the slope of the grading: (Move the mouse to adjust the slope of the grading.) 
Command Options
Option

Description

After selecting an entity

slope/Offset

Sets either the slope or offset option of the grading. 

Type "O" in the command line

Prompts you:

Move mouse to change the offset of the grading or press tab key to change the slope:

Note: that for the offset-slope projection method requires input entity, offset, and slope.
Procedures
Grading a surface to create pond
Displaying the properties of a TIN surface
Related Commands
Tin - Creates a topographical surface from an imported points file, or placing new points.
TinEdit - Allows to add/remove boundaries, breaklines, and points to a surface.
TinExtract - Creates a mesh or 3D solid between TIN surfaces or between a TIN surface and elevation or vertical offset.
TinMerge - Combines two or more TIN surfaces (or gradings) into a new TIN surface.
TinModify - Easily deforms or smoothens a selected TIN surface.
TinVolume - Creates a TIN volume surface between a base and comparison TIN surfaces or an elevation.