Creates a connection between flow segments, such as pipes or HVAC ducts.
Accessing the Command

Commandline: BIMFLOWCONNECT

Quad: Model

Ribbon: Home | Modify | Connect | FlowConnect
Toolbar: BIM Toolbar | BIM Connect
: BimFlowConnect
Prompts you:
Select solids to connect: (Select one or more flow segments*.)
Entities in set 1:
Select solids to connect: (Select more flow segments* or press Enter.)
* When more than 2 flow segments are selected, the axes of the selected segments must be coplaner.
When multiple coplanar segments are selected, the connections are created.
When 2 non coplaner solids are selected:
Apply connection or switch to the next alternative [Switch] <Accept>: (Press Enter to accept the connection or press the Ctrl-key for alternative connection(s))
Command Options
Option

Description

Switch

Switches between possible connections.
Type s + Enter or tap the Ctrl-key to cycle the various alternatives.

Alternatives for circular flow segments:

Alternatives for rectangular flow segments:

Reducers

When the section of the selected flows is different, reducer elements are inserted.
User Preferences
The creation of bends and reducers is controlled by user preferences.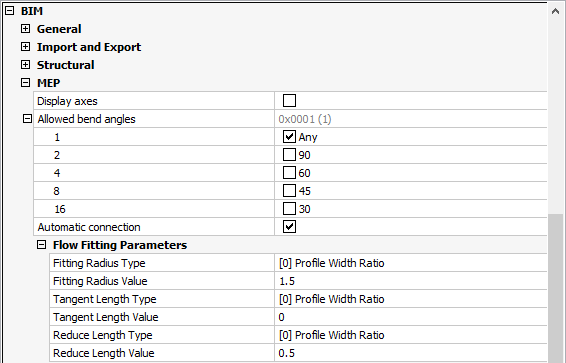 Display axes

Displays a red axis of the profile.

Allowed bend angles

Defines which angles are used for MEP bends.

Any: allows to connect any two ducts,
90, 60, 45, 30: specifies which bend angles are allowed.

Automatic connection:
If set, APPLYPROFILE and LINEARSOLID commands automatically create bends when creating multiple flow segments in the same same workflow.
Flow Fitting parameters

These parameters control the creation of bends and reducers.

Fitting Radius: radius of the bend; more precisely the radius sweep path of the bend.

Tangent Length: length of the straight part at the end of a bend.

Reduce Length: Length of a reducer element which connects two different profiles.

For each of the flow fitting parameter you can choose between a relative value (Profile Width Ratio) or an absolute value.
Procedures
Using the MEP Modeling tools to draw and connect profiles
Connecting different segments to each other
Related Commands
Drag - Moves 3D solids perpendicular to a selected face by dragging that face. Optionally preserves connections to other solids.
BimStructuralConnect - Connects structural profile solids such as beams and columns.
LConnect - Creates an L-connection between solids.
TConnect - Connects solid faces to other solids.