BIM Profiles
BIMAPPLYPROFILE / BIMLINEARSOLID
The composition material of a profile is now attached to the created solid in the BIMAPPLYPROFILE and BIMLINEARSOLID commands.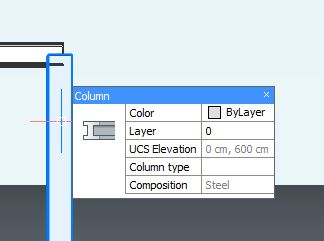 BIMPROFILES
When changing the Offset property of a CustomShape profile via the Profiles dialog, you can choose whether to keep the position of the solid or its axis, for linear solids using said profile.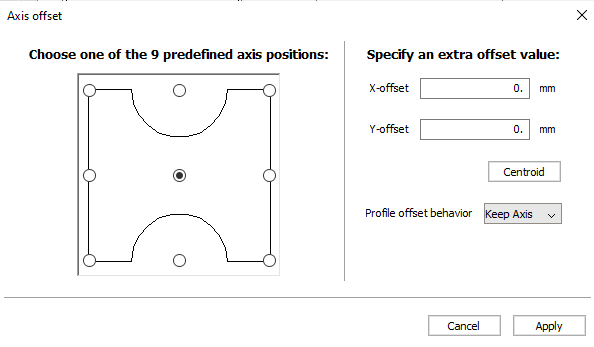 BIMPROFILESTANDARDS
The BIMPROFILESTANDARDS setting is no longer case sensitive. In case there are no profiles matching the value of the BIMPROFILESTANDARDS setting, a warning message displays.
Mass Modeling tools
The first prototype of the new BIMQUICKBUILDING command has been implemented. The QuickBuilding tool allows you to generate a BIM building just from one massing solid. It automatically generates different levels, walls, spatial locations, etc. It can be very useful in early design stages, volume studies and conceptual design. The tool will assign BIM properties to each part of the new building.
Spatial Locations can now be used as input for BIMQUICKBUILDING. This workflow allows you to process different buildings simultaneously.
The command also works on solids without edges, for example, a sphere or a torus.
Insert BIM Component
The BMINSERT command now includes a SMART insert option, which automatically adjusts parts to match current and relevant parts in the model file when inserted.
You can select SMART insert by clicking the option in the command line, or toggle CTRL to the rightmost icon when prompted in the HotKey Assistant.

By detecting and creating 3D constraints between the relevant connection points, SMART insert resizes and attaches your desired component onto the current component/s with assembly constraints and common parameters to form a bigger part of a parametric assembly. This is particularly useful in modelling parametric MEP piping systems.
Disconnect
The LCONNECT and BIMSTRUCTURALCONNECT commands now include a fourth option: DISCONNECTED. You can cycle through the options with the CTRL button in the HotKey Assistant.
Quickdraw
The Quickdraw cursor now supports snapping to (double) lines inside XREFs. Walls now inherit the spatial location of the slab on which they are created.
Standards Parts
Piping parts were added to the standard parts category of the Library panel.