BricsCAD v21 offers many advanced tools for linear infrastructure modeling.
Import/Export
New and enhanced tools for importing and exporting civil data help accelerate collaboration and design processes.
Civil 3D Data
The new CIVIL3DIMPORT command enables you to create multiple civil entities in your BricsCAD drawing, from an external Autodesk® Civil 3D drawing, in one operation.
LandXML Data
The LANDXMLIMPORT and LANDXMLEXPORT tools offer more flexibility. They support new alignment curves including spiral-curve-spiral combinations and parabolas for vertical alignments. Imported vertical alignments automatically create 3D Alignments. And, when importing a surface with breaklines, a new option allows you to specify whether the breaklines should be drawn as 3D polylines or not drawn at all.
Civil Entity Properties
All Civil entities now include Name and Description properties in the Properties panel. Name and description are in the read-only mode in the Properties panel. They can be edited with the API.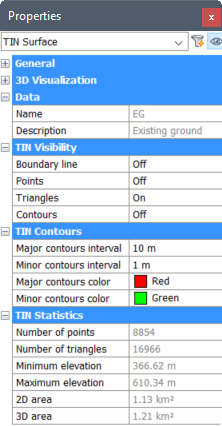 Selected sub-entities of (Civil) custom entities are also displayed in the Properties panel.
Civil settings
A new Civil node is included in the Settings dialog box for easy access to Civil settings.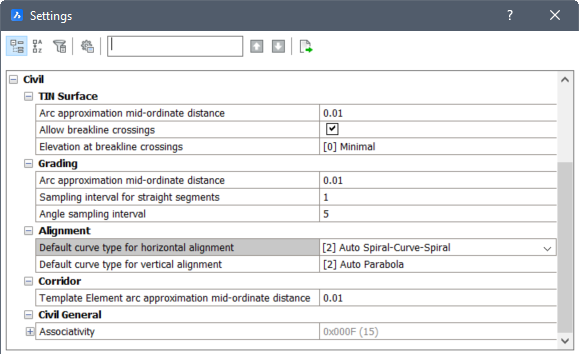 TIN Surfaces
New and enhanced tools for creating and editing TIN surfaces provide more flexibility and a faster workflow.
Associativity
Points and blocks are dynamically linked to the TIN surface. If a TIN surface is created from points or blocks in the drawing and some points/blocks are moved, the TIN surface automatically updates to reflect the changes.
Clipping
A new option in TIN and TINEDIT commands enables you to clip a TIN Surface according to a given polyline boundary.

Raster Images
The new TINASSIGNIMAGE command enables you to assign a raster image as a TIN Surface material to create a realistic site model.

Extract
The TINEXTRACT command enables you to extract faces, points, contours, and the border from a TIN surface, in addition to the previous ability to extract a mesh or solid.


You may also extract a TIN surface from a Grading or TIN Volume Surface using the TINEXTRACT command.
Project
The new TINPROJECT command enables you to project point-based entities including points, blocks, and text or linear entities, including lines, polylines, and circles, to a TIN Surface.

Water Path
The new TINWATERDROP command enables you to draw a water drop's path from a point on a TIN Surface.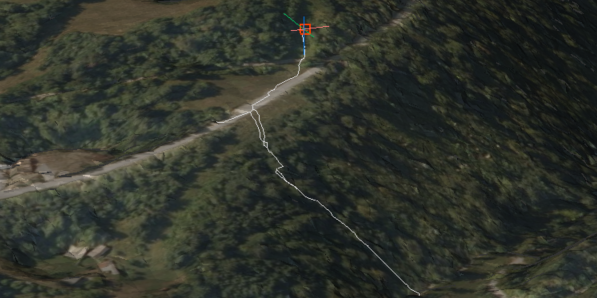 Alignments
The workflow for creating alignments is simplified while still offering powerful functionality and additional flexibility.
Horizontal and vertical alignment geometry is enhanced. Horizontal alignments now support spirals and vertical alignments now support parabolic curves. The new DEFAULTCURVETYPEHA and DEFAULTCURVETYPEVA alignment settings enable you to specify the default curve type for creating new horizontal and vertical alignments.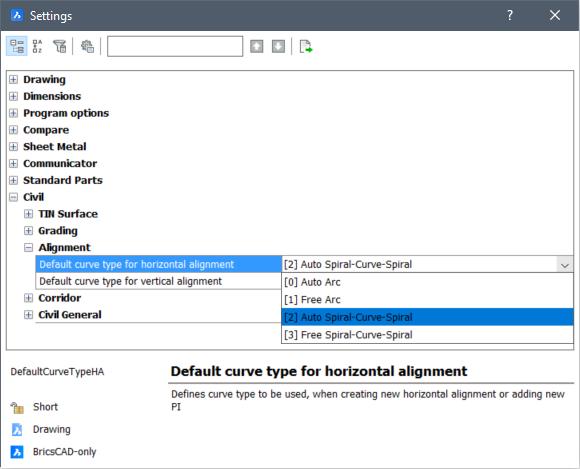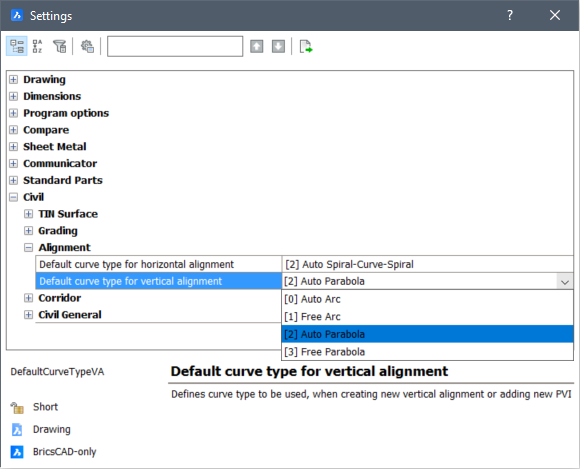 The Properties panel displays properties for Spiral-Curve-Spiral or parabola elements.
Corridors
Powerful corridor tools help you create a 3D model of linear infrastructure defined by a template and 3D alignment.
The new CORRIDORTEMPLATEELEMENT command enables you to create a corridor template element from closed polylines.

Then use the new CORRIDORTEMPLATE command to create a corridor template from template elements.

Finally, use the new CORRIDOR command to create a corridor from a corridor template, 3D alignment and/or TIN Surface. You can create multiple regions using different corridor templates. And, you can add or remove regions using the new CORRIDOREDIT command.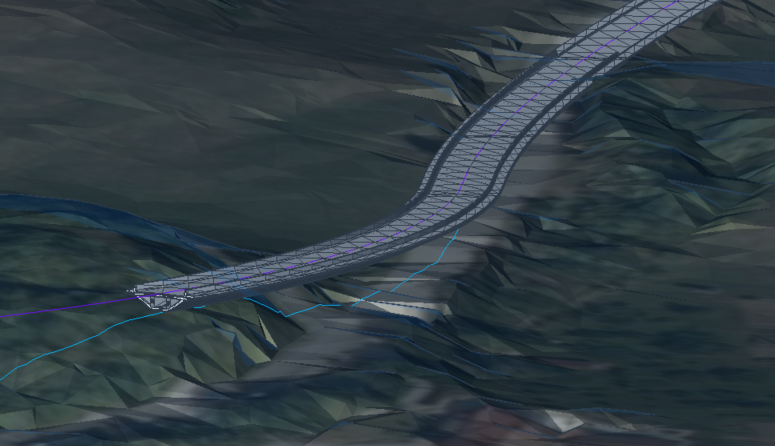 Use the Properties panel to modify data and visual style properties of the selected region.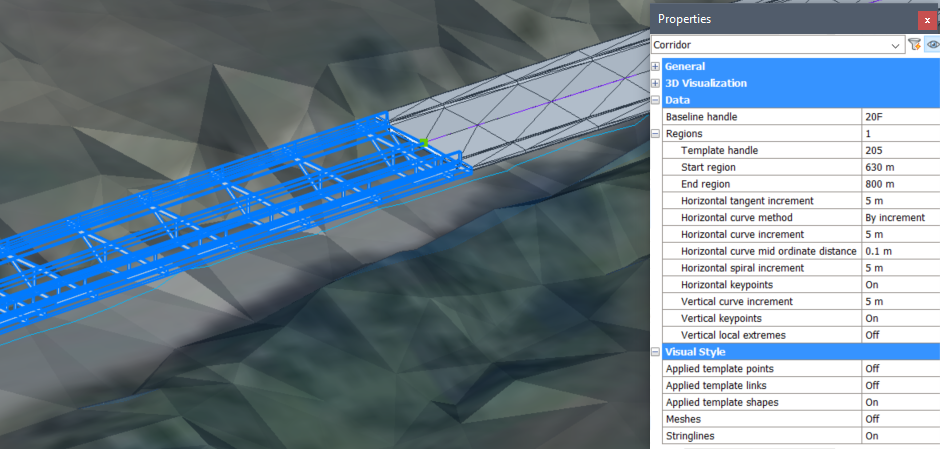 The new CORRIDOREXTRACT command enables you to extract a 3D solid, 3D mesh, or 3D polyline from a corridor to use for various purposes. For example, you can extract polylines from a corridor to use as edges for the grading. If you grip edit the alignment, the corridor and its associated geometry, such as the grading, automatically follows.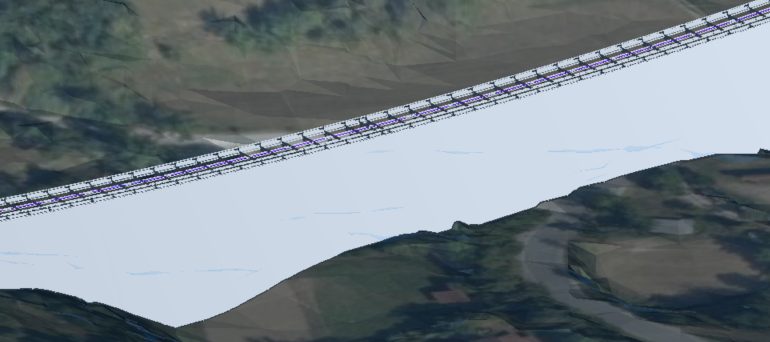 Gradings
The new GRADINGBALANCE command enables you to balance grading cut and fill volumes.

TIN Volume Surfaces
The ASSOCIATIVITY setting includes a new control for TIN Volume Surface associativity. TIN volume surfaces automatically rebuild when their source surfaces change.
API Samples
The following API samples are provided: Horizontal alignment report, Color surface triangles by elevation, Color surface triangles by slope.