Corrects inaccuracies in your drawings, such as small gaps between lines or near vertical, horizontal and diagonal lines.
Accessing the Command

Keyboard: optimize
Ribbon Tab | Panel: Manage | Drawing Optimizations
: optimize
Displays a dialog box: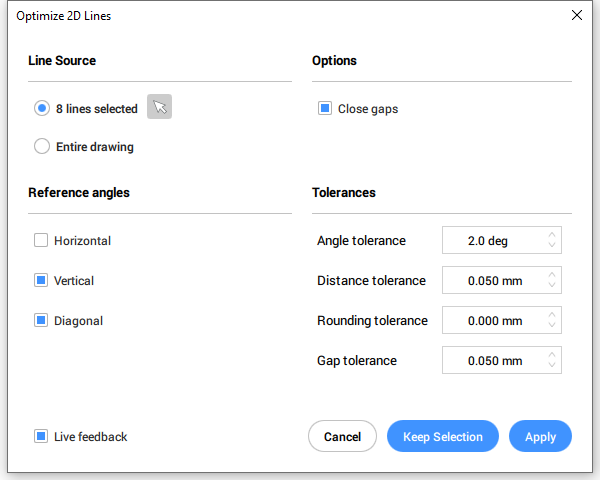 Do the following:
Select the lines to be processed, optionally choose Entire Drawing.
Select the desired options.
Adjust the tolerances.
Click the Apply button.
or
Click the Keep Selection button to leave the command without optimizing, but with keeping the highlighted lines selected. This option allows you to select suboptimal lines in a drawing.
BricsCAD reports
XX lines optimized
Command Options
Option

Description

Select lines in drawing
Click the arrow button to select entities in the drawing.
Entire drawing
Processes the entire drawing.
Close gaps
Closes gaps between collinear lines that are smaller than the gap tolerance.
Reference angles
Horizontal
Corrects near horizontal lines according to the angle tolerance.
Vertical
Corrects near vertical lines according to the angle tolerance.
Diagonal
Corrects near 45° lines according to the angle tolerance.
Live feedback
Highlights the lines which match the selected options.
Tolerances
Angle

Sets the angle tolerance in degrees, with respect to the World Coordinate System (WCS).

Near horizontal, vertical or diagonal lines within this angle tolerance will be optimized.

Distance

Sets the distance tolerance.*

Parallel Lines within this distance will be merged.

Rounding

Sets the rounding tolerance.*

The calculated coordinates of the start- and endpoints will be rounded to the closest multiple of the rounding tolerance.

Gap

Sets the gap tolerance.*

Gaps between collinear lines within the gap tolerance will be filled.
* Expressed in insertion units (see the INSUNITS system variable).
Related Commands
Overkill - Deletes duplicate entities and overlapping lines, arcs, and polylines, and unifies partly overlapping or contiguous ones; optionally moves duplicates to a dedicated layer.
Combines duplicate blocks; optionally purges duplicate block definitions.
Join - joins lines, LW polylines, 2D polylines, 3D polylines, circular arcs, elliptical arcs, splines and helixes at their common endpoints..
Purge - removes unused named entities from drawings, such as unused layers and line types.