Opens the Library panel.
The content of the Library panel can be different in each workspace and is saved through a *.ccf file (components content file) in the Support folder of the roamable root folder.
Accessing the Command
Keyboard: librarypanelopen

context menu: right-click any toolbar or ribbon item, and then choose Panels > Library
: librarypanelopen
Displays the Library panel: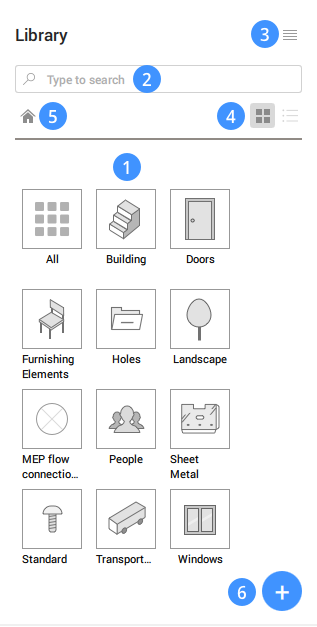 Block library: Category and Block thumbnails
Search field.
Options menu
View options
Navigation toolbar
Add Block button
Command Options
Option

Description

Block library

The block library is organized by categories. Select a category to view its blocks and/or sub-categories.

Categories and blocks may be user-defined or pre-defined by BricsCAD.

You can scroll through the categories and blocks using the mouse wheel or the scroll bar.

The availability of pre-defined blocks depends on your license level.

Search field
Searches the library for words you enter in the search box. All blocks in all categories that contain the current search string are listed.

Options Menu

Generate thumbnails: Generates or updates the thumbnail images of all blocks.

Manage libraries: Allows to select folders with user-defined blocks (4). Opens the Settings dialog with the Library Directory Path (COMPONENTSPATH) system variable selected.

To edit the directory path list, do the following:

Click the Browse () button at the right hand side of the settings field to open the Path List dialog:

Click the New button (), then click the Browse button () at the right hand side of the settings field.
The Choose a Folder dialog displays.
Select the folder, then click the Select Folder button.
(option) Click the Delete path button () to remove a folder.
(option) Select a path, then click the arrow buttons to change the order.

Content of the library

Bricsys Mechanical library:
C:\Program Files\Bricsys\BricsCAD V21 en_US\UserDataCache\Support\en_US\DesignLibrary
Bricsys BIM library:
C:\Program Files\Bricsys\BricsCAD V21 en_US\UserDataCache\Support\en_US\Bim\Components
Bricsys 2D library: (not implemented yet)
User library (C:\ProgramData\Bricsys\Components) and user defined folder paths (if any) as defined by the COMPONENTSPATH system variable (see above).

View options

You can choose between Grid (left) or List (right) view.

Use the mouse wheel or the scroll bar to browse.

Navigation toolbar

Displays the path to the current folder.

Click a folder in the path to open it.
Click the Home icon () to return to the root.

Thumbnails

Click to display all blocks alphabetically in all folders and subfolders of the currently selected libraries in the options menu.

Folder thumbnail: Click to display the components and subfolders (if any).

Block thumbnail: Click then move the cursor to the drawing to insert the block.

Add Block

Click the + button to launch the CREATELIBRARYBLOCK command.
Procedures
Related Commands
CreateLibraryBlock - Creates library blocks from a selection set or an entire drawing and adds them to the library through a dialog box.
LibraryPanelClose - Closes the library panel.