Attaches point cloud files from the cache folder to the current drawing through a dialog box.
Accessing the Command

Keyboard: pointcloudreference
Toolbar: Pointclouds
: pointcloudreference
Displays a dialog box: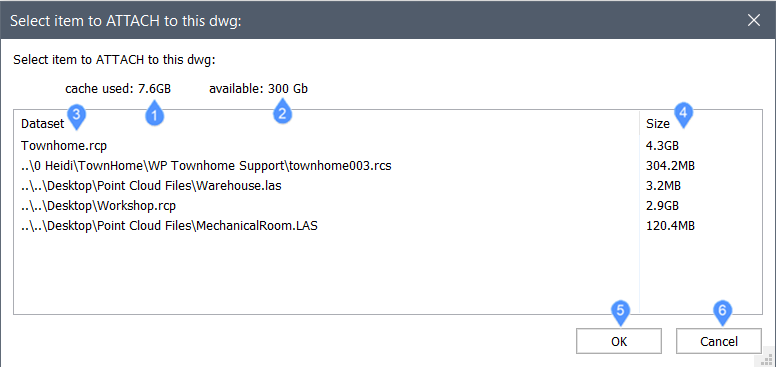 Cache used: Specifies the total amount of used cache.
Available: Specifies the total amount of available cache.
The available cache is controlled by the POINTCLOUDCACHESIZE system variable.
Dataset: Displays a list of cached point cloud files including their names and locations.
You can select a cached file from the list to attach to the current drawing.
Size: Displays the amount of cache used for each point cloud file.
OK: Displays the Attach Point Cloud dialog box where you can specify how to attach the selected point cloud file to the current drawing.
Cancel: Closes the dialog box without attaching a point cloud file.
Command Options
No command options.
Related Commands
AttachmentsPanelOpen - displays the Attachments panel from which point clouds and other attachments can be loaded and controlled.
PointCloud2dVsDisplay - controls whether a bounding box and a warning message display when trying to view a point cloud in the 2D Wireframe visual style.
PointCloud - opens the Drawing Explorer to the Point Cloud section; converts, loads, and unloads point cloud file attachments.
PointCloudAlign - rotates the point cloud to optimally align it with the X and Y axes.
PointCloudAttach - attaches point cloud files (that were previously converted to BricsCAD's BPT format) to the current drawing.
PointCloudBoundary - sets the display of the bounding box of point clouds.
PointCloudColorMap - colorizes the points based on Intensity, Elevation, and Classification of the point cloud.
PointCloudCrop - crops a point cloud entity, displaying only the part of the point cloud inside or outside a prismatic or cylindrical volume.
PointCloudDeleteItem - deletes point cloud files from the cache folder through a dialog box.
PointCloudExport - exports a cropped selection of a point cloud to a .pts file.
PointCloudImport - imports a VRM file into the current point cloud cache location through a dialog box.
PointCloudPointMax - defines the maximum amount of points shown per point cloud.
PointCloudPointSize - specifies the size of points.
PointCloudPointSize_Minus - decreases the size of points.
PointCloudPointSize_Plus - increases the size of points.
PointCloudUncrop - removes all croppings from a point cloud.