Imports a VRM file into the current point cloud cache location through a dialog box.
This can be especially useful for sharing point cloud datasets between users.
Accessing the Command
Keyboard: pointcloudimport

: POINTCLOUDIMPORT
Displays a dialog box: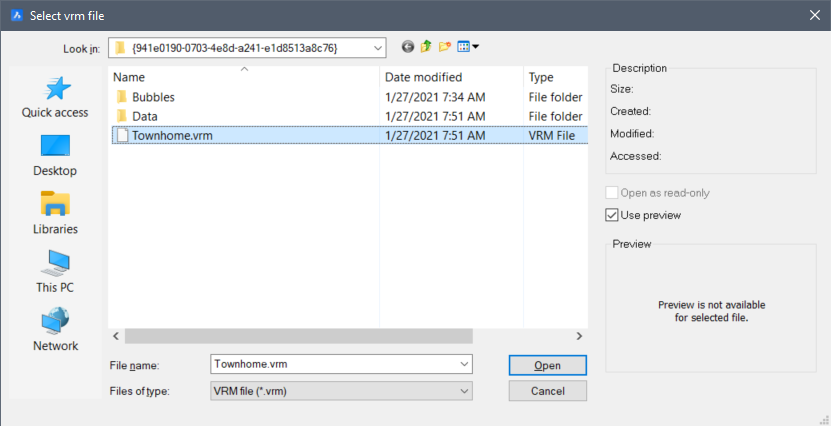 Select the *.vrm file, the click the Open button.
The selected *.vrm file is imported to the current cache location as specified by the POINTCLOUDCACHEFOLDER system variable. By default this is the PointCloudCache folder in the roamable root folder.
Command Options
No command options.
Related Commands
AttachmentsPanelOpen - displays the Attachments panel from which point clouds and other attachments can be loaded and controlled.
PointCloud2dVsDisplay - controls whether a bounding box and a warning message display when trying to view a point cloud in the 2D Wireframe visual style.
PointCloud - opens the Drawing Explorer to the Point Cloud section; converts, loads, and unloads point cloud file attachments.
PointCloudAlign - rotates the point cloud to optimally align it with the X and Y axes.
PointCloudAttach - attaches point cloud files (that were previously converted to BricsCAD's BPT format) to the current drawing.
PointCloudBoundary - sets the display of the bounding box of point clouds.
PointCloudColorMap - colorizes the points based on Intensity, Elevation, and Classification of the point cloud.
PointCloudCrop - crops a point cloud entity, displaying only the part of the point cloud inside or outside a prismatic or cylindrical volume.
PointCloudDeleteItem - deletes point cloud files from the cache folder through a dialog box.
PointCloudExport - exports a cropped selection of a point cloud to a .pts file.
PointCloudPointMax - defines the maximum amount of points shown per point cloud.
PointCloudPointSize - specifies the size of points.
PointCloudPointSize_Minus - decreases the size of points.
PointCloudPointSize_Plus - increases the size of points.
PointCloudReference - attaches point cloud files from the cache folder to the current drawing through a dialog box.
PointCloudUncrop - removes all croppings from a point cloud.