Using the Library panel
About

The Library panel is a quick way to keep your BIM blocks at your fingertips or to access predefined ones. You can add any CAD model to the Library. You can also fully customize the name and category to make it easier to find. You can then insert a library block in your drawing by dragging and dropping. Keep your library clean by deleting the items you no longer need.
Content of the Library panel
You can control the content of the
Library
panel in the
Option
menu.
Note:
When the COMPONENTSPATH system variable is empty (all paths deleted), the default
C:\ProgramData\Bricsys\Components
path is added automatically when you close and reopen the
Settings
dialog box.
Creating a library block
Open or create the drawing which contains the geometry for the new block.
Open the

Library

panel.
Do one of the following:

Click the

Home

icon ().

This allows you to select the destination category; or you can create a new category.

Click the

Category

thumbnail.

The new item will be created in the selected category or in a subcategory of the selected category.

Press the Add button or launch the CREATELIBRARYBLOCK command.

The Add block to library dialog box displays.

Select the entities or choose the

Entire drawing

option.
Type a name for the block.
(Option) Type a new category name or choose a category from the list.
(Option) Click

Show Options

and set the block creation options.
Click the

Create

button.
Managing library blocks
In the

Grid view

display, hover over the block icon.
Click the

Menu

icon (...).





(Option) Click the

File Open

icon (1) to open the block file.

Edit the file, then save the changes.

(Option) Click the

Delete

icon (2) to delete the block file.

Click Yes to confirm.
Searching the block libraries
Type a search string in the search field.
Only matching library blocks in the current category display.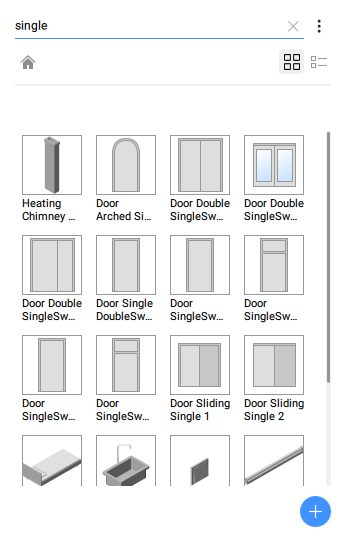 Inserting a BIM window into your 3D model
Click the

Windows

category tile in the

Library

panel.
Click a window (8).
Drag and drop the window onto the wall (9).

If Dynamic dimensions (DYN) is switched on, set the window location by entering the dimensions into the DYN fields (9). Press the Tab key to cycle through the DYN fields (10). A DYN field turns red to indicate the distance is locked.





To edit the dimensions of the window press Ctrl (11) once and then use the Tab-key to cycle through the DYN fields (12).





Press Enter. The window is created. This same technique can be used for most of the blocks in the

Library

.





(Optional) Once you have a window, you can adjust the position by selecting the window and then clicking on the dimension lines and editing the dimensions (13).





(Optional) To adjust the dimensions of the window after the window has been created, go to the

Properties

panel. Scroll down to the

Parameters

section and change the parameters as required. All windows and doors in the Library are parametric.