LAYERSTATE command
Opens the Drawing explorer dialog box with Layer States selected.

Icon:

Alias: LAS
Description
Opens the Drawing explorer dialog box on the Layer States category to manage layer states of layers that are used in the selected drawing.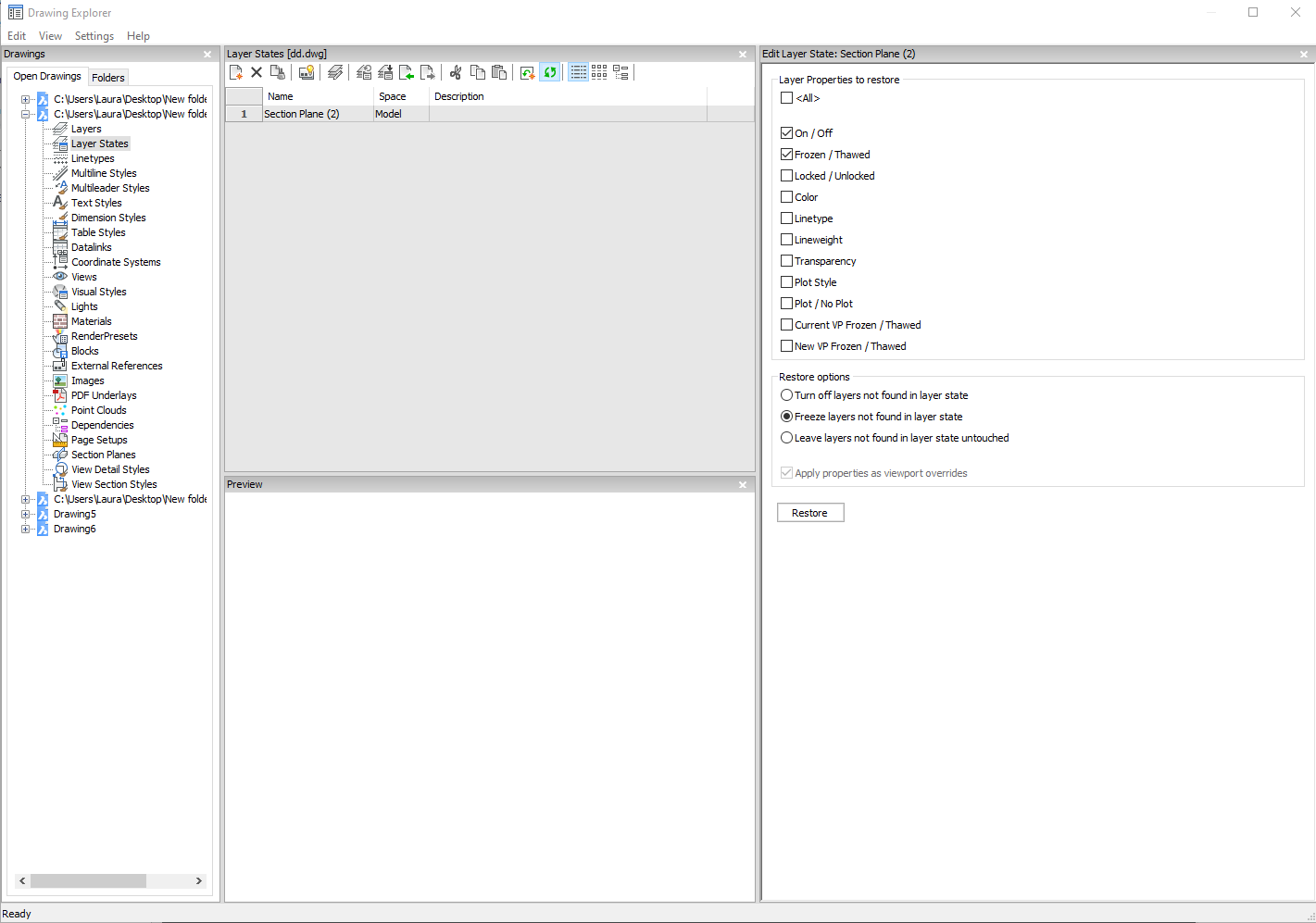 Options within the command
<All>

Selects or deselects all properties. See the LAYER command for the meaning of the properties
Restore options

Determines what happens with layers not found in the layer state such as those added after the layer state was created.
Apply properties as viewport overrides

Applies the layer state as viewport overrides (see VP Layer properties) to the current layout viewport.

Note:

This option is only available on a layout within a layout viewport.
Context Menu Options
New

Creates a new layers state with a generic name.
Delete

Deletes the selected layer state from the drawing.

Note:

Layer states that are used in the drawing will be deleted without warning.
Hide xref symbols

Toggles the visibility of xref symbols on and off.
Edit Layer State

Displays the Edit Layer State dialog box to change the status of the layer state.
Add

Adds layers to layer state
Remove

Remove layers from layer state.
Restore

Restores the selected layer state to the default state.

Note:

The properties of the layer will change after closing the Drawing Explorer dialog box.
Overwrite

Overrides the settings of the selected layer state with new settings changed by the Edit Layer State panel.
Import

Imports layer states from a LAS file through the Layer States dialog box.
Export

Exports layer states to a LAS file through the Layer States dialog box.

Note:

The layer state file can be imported into other drawings or send to clients.
Select All 

Selects all items.
Invert selection

Deselects the current selection and vice versa.