LEADER command
Draws leaders.

Alias: LE, LEAD
Description
Draws leaders by specifying several points.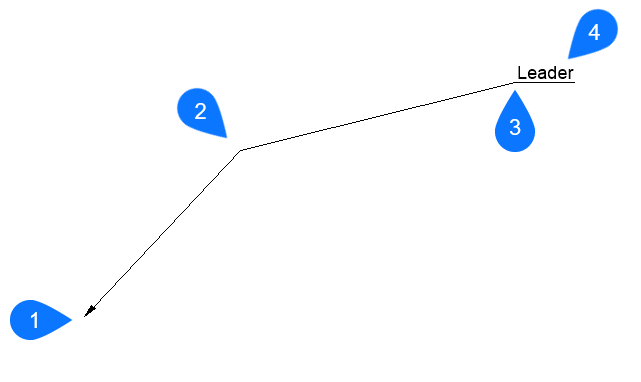 Note:
After you start creating a leader, options regarding the annotation may be available.
Options
Format

Specifies the leader style.
Arrow

Draws an arrowhead at the leader's start point (default).
None

Does not draw an arrowhead.
SPline

Draws the leader as a spline.
STraight

Draws the leader as a straight-line segment (default).
Undo

Undoes the last leader line segment.
Annotation

Starts adding text to the end of the leader line.

Note:

The annotation is created as an MTEXT entity.

Note:

The annotation is independent of the leader line. When moving a leader, make sure to include the annotation in the selection set.
Block

Select a block in the drawing or upload a block file from the computer.
Copy

Select a Mtext, text, block reference or tolerance object from the drawing to use as annotation of the leader.
None

The leader command closes without annotation.
Tolerance

Enter the annotation as a tolerance notation through the geometric tolerance dialog box.
Mtext

Enter annotation as Mtext through a text formatting toolbar.